Children should exercise but… how much exactly?
We complain that childhood obesity rates are skyrocketing and that the sedentary lifestyle of children and adolescents is a huge problem (oh, all day with the cell phone and the computer). We know the speech, but then, at home… we forget the good intentions with our sons and daughters.
The World Health Organization (WHO) recommends a minimum of 60 minutes a day of moderate or vigorous intensity physical activity for children and adolescents. «However, the fact that 70% of Spanish children and adolescents do not do the minimum recommended amount of exercise is alarming. It is alarming," warns Dr. Elena Roldán, a rehabilitation doctor from the Spanish Society of Rehabilitation and Physical Medicine (SERMEF).
According to the expert, the 'solutions' to the problem of children's sedentary lifestyle must be addressed from all areas (family, school, institutions), since all efforts are insufficient to meet these established minimums. How can we enforce them?
Everyday things and school

"Children will follow the example of the lifestyle they observe at home," says Roldán. The simplest thing would be to start by taking advantage of everyday situations, adopting active routines to start adding minutes of moderate intensity: walking or cycling to school, getting off the bus one stop earlier or parking a little further away to walk a little further. Of course, avoid elevators. "You can also involve the child in some household chore, adapting the difficulty (sweeping or washing, for example) to his age." He also advises that breaks and breaks be used to do some moderate to vigorous intensity activity. "This way we add a few more minutes to the daily marker," he points out.
In leisure time

«Midweek afternoons should be used to introduce three or four sessions of moderate or intense activity. For toddler-age children, 20-40 minutes of park play would be appropriate or, in the case of inclement weather, activities at home that promote movement (building a shelter, playing scavenger hunt, or simply dancing a few minutes in several batches)", he suggests. As he points out, in the case of preteens and adolescents (from 9 or 10 years old), regulated activities, organized sports (in clubs or at school), in addition to playing with friends may be more appropriate. and friends to soccer, basketball….
And on the weekend, rest? No. "It provides the opportunity to do longer sporting activities, with the additional benefit of being able to spend time with the family: a walk in the countryside, a short bike ride or going to the pool," for example.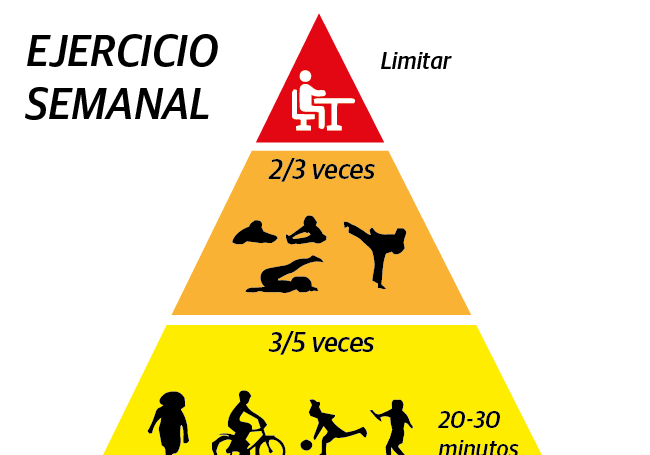 Each age, its own

In childhood, the game they can play in a park brings together all the beneficial components (running, climbing, jumping, getting into the modules and swing houses…). "And from pre-adolescence onwards, it is best to combine two types of exercise (swimming with climbing, skating with Pilates…) to work on both the aerobic aspect and strength and flexibility."
Some may think this seems like a lot, "but we must remember that accumulating sixty active minutes a day is the minimum recommendation: doing more will provide additional benefits." According to the expert, the total daily activity can be divided into several short and intermittent sessions (games at recess, in the park or at home, regulated sports activity…), "especially in the case of small children."
Strong bones and mind
Moderate or vigorous intensity? How to distinguish them? The rehabilitation doctor Elena Roldán teaches us. «This can be verified in a simple way with the 'speaking test': with a moderate intensity you can maintain a conversation; with a vigorous one, no. According to her reviews, exercise helps, among other things, to prevent obesity, increases bone mass (bones 'with good foundations' will be formed), improves memory and reduces the risk of depression and anxiety.